Kawaiivinny is the host, creator and editor of the Minecraft: Survivor YouTube series.  What started as a simple game put together to mimic the TV series Survivor has turned into a YouTube series with six seasons (and a confirmed seventh) and nearly a hundred (known) fans.
How It Began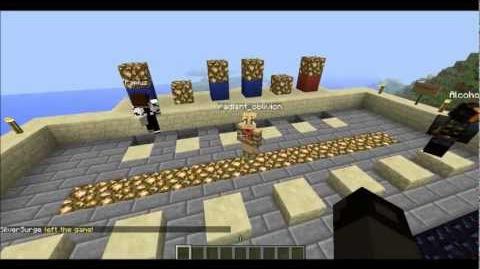 Minecraft: Survivor started as a small replica of Survivor to show to a few online friends who played Minecraft.  The entire first season was constructed and thought up by kawaiivinny in the span of a few months.  Since there were only a handful of friends who were interested in playing, the first series started off with 7 players.  Later, the series had gained enough attention to allow games with up to 12 players.
The first season game took only 5 hours to complete and had a two page script which spelled out how to run the game and challenges.  In later seasons, a few other people joined in to help with building and helping out during the game.  The time to complete each game grew larger with each season, and is currently averaged at 10 to 12 hours per game.
About kawaiivinny
Kawaiivinny is a YouTuber who posts gameplay of video games with commentary.  She joined YouTube in 2008, and her first video was Super Mario World Kaizo Edition which was posted in 2009.  Ranging from Super Mario World Rom Hacks to Dead Space, she plays a variety of games. 
Kawaiivinny first posted the Minecraft: Survivor series on YouTube in August of 2012 to simply show off Minecraft: Survivor to her YouTube subscribers.  After gaining more attention later on, it became one of her most popular series.  For each season, she draws inspiration from the TV series Survivor and challenges that are possible to do in Minecraft.  Each challenge is thought up with a simple idea, then elaborated on and finally built and tested, making sure the challenge is not breakable in ways where players can cheat or bend the rules for the challenge.
Trivia
Kawaiivinny grew up in Wisconsin but currently resides in Florida.
Radiant_oblivion (Kait) is kawaiivinny's younger sister.
The "Outwit, Outplay, Outcraft" on the Minecraft: Survivor logo is not curved the way it should be because kawaiivinny doesn't know how to curve text.
The K in kawaiivinny is actually lowercase.
The kawaiivinny username was formed by being an insult towards a character in a novel that had a character, Vincent, modeled after kawaiivinny's personality (it's an inside joke).
Kawaiivinny's real name is Aimee, but don't worry about the spelling because most people mispell it.
Kawaiivinny is often known for her hatred towards dogs and love of cats.