Minecraft Survivor: Season 2
Contestants
7
Winner
radiant_oblivion
Runner-Up
therealninjaboy




Episodes
11
Started
Apr 23, 2013
Ended
May 25, 2013
</onlyinclude>
Minecraft Survivor: Season 2 was the sequel to Minecraft Survivor and introduced Isolation Island. Instead of the teams being on seperate islands, they lived on the same island in the same camp. This season, the two teams were Orange and Green, with an additional White team introduced halfway through the season. The first episode started out with a Hunger Games style challenge, where one person won immunity. Minecraft Survivor: Season 2 was located in a desert instead of a swamp island like Season 1. This season only had 11 episodes.
Description
This season's description was: Minecraft: Survivor is based off the television show Survivor. In season 1 of Minecraft: Survivor, 7 players competed to be the winner of the game located over the ocean. Season 2 is desert themed, where both teams reside in a single base camp instead of two individual islands. Season 2 has a perk called Isolation Island, where two players will spend the night isolated from the rest of the group in hopes in finding clues to where the hidden immunity item can be found. The hidden immunity item can be played before a council vote to keep a single player in the game when they would've been voted out from the rest of the players. Who will win Minecraft: Survivor Season 2? Watch to find out!
Cast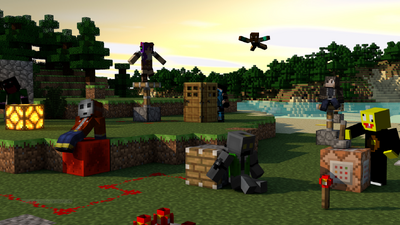 Elimination Order
WARNING: SPOILERS!
Please do not continue if you have not seen the season.
| Name/Episode | 2 | 3 | 4:Swap | 5 | 6:Swap | 7 | 8 | 9 | 11 |
| --- | --- | --- | --- | --- | --- | --- | --- | --- | --- |
| radiant_oblivion | Green Team | Safe | White Team | Safe | Orange Team | Safe | Merged | Safe | Winner |
| therealninjaboy | Green Team | Immune | Green Team | Winning Team | No change | Winning Team | Merged | Safe | Runner-up |
| HystrixSA | Green Team | Safe | Green Team | Winning Team | No change | Winning Team | Merged | Immune | Eliminated |
| Papius | Orange Team | Safe | White Team | Safe | Green Team | Winning Team | Merged | Voted Out | |
| SilverSurge | Orange Team | Safe | Orange Team | Safe | No change | Voted Out | | | |
| deviouskyle251 | Orange Team | Safe | Orange Team | Voted Out | | | | | |
| AlcoholicRobot | Orange Team | Voted Out | | | | | | | |
Voting Table
| | | | | | | | | | |
| --- | --- | --- | --- | --- | --- | --- | --- | --- | --- |
| TheRealNinjaBoy | AlcoholicRobot | Kyle | | | | | | | |
| HystrixSA | Papius | Kyle | | | | | | | |
| SilverSurge | Kait | Papius | | | | | | | |
| AlcoholicRobot | | | | | | | | | |
| Deviouskyle | | Papius | | | | | | | |
| Papius | | Ninja | | | | | | | |
| Kait | | Kyle | | | | | | | |